You are here because you are looking for How to start a blog and make money?
You are the right place to get all the information you wanted to start a Blog I don't want to take your time anymore
Find your Interest
Domain name
Select a Hosting
Choose website Platform
Select a Theme & Plugins
Start Writing a Content
Find your Interest
Everybody has a question, how do I start? What should I write?
Wait! Just think, what you like most that are your Interest.
Your passion, knowledge or topic that you know very well. You may have
A lot of technical knowledge Skills
Fitness ideas
Traditional home remedies
Review about best product or service
Online Food Recipe preparations
Hope you have found your interest and ready to move on to the next step.
Choose a Domain Name for your Blog
A domain name is a website identification name or in other work your blog/website name
Example Domain names: Google.com, namecheap.com, godaddy.com
We need to choose the domain name after you decided your Blogging Interest
Namecheap, GoDaddy, Big rock are the top domain name providers.
Namecheap is my favourite domain name provider. They Provide Free Domain with Shared Hosting, I will cover what is Hosting in the next step.
They provide a Free WhoisGuard with Every Domain Purchase. So that I choose Namecheap.
Click here to find How to Register a New Domain.
Use Beast Mode to Search Domain name. It provides a verity of options to bulk domain search.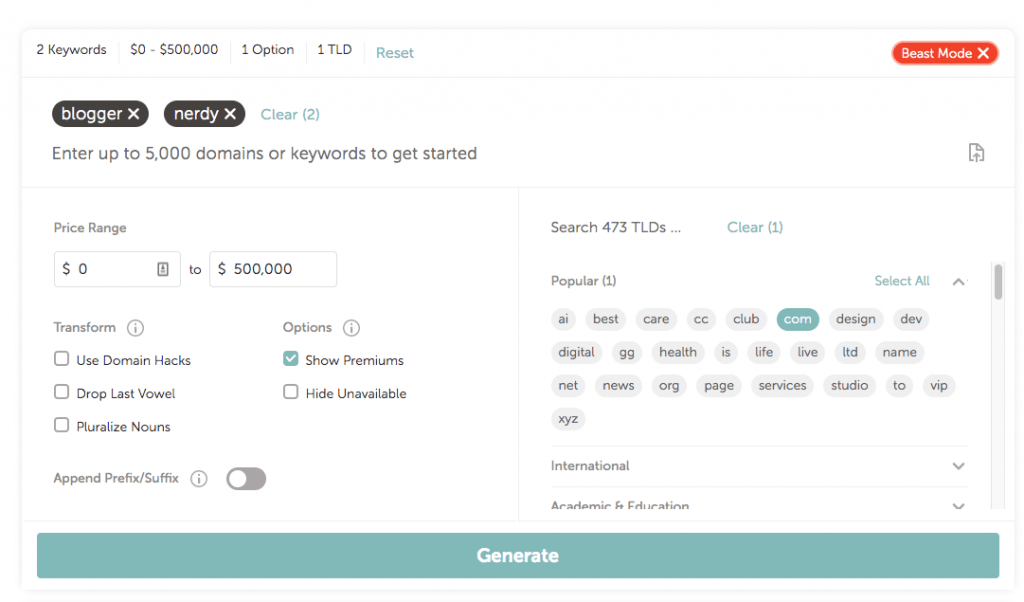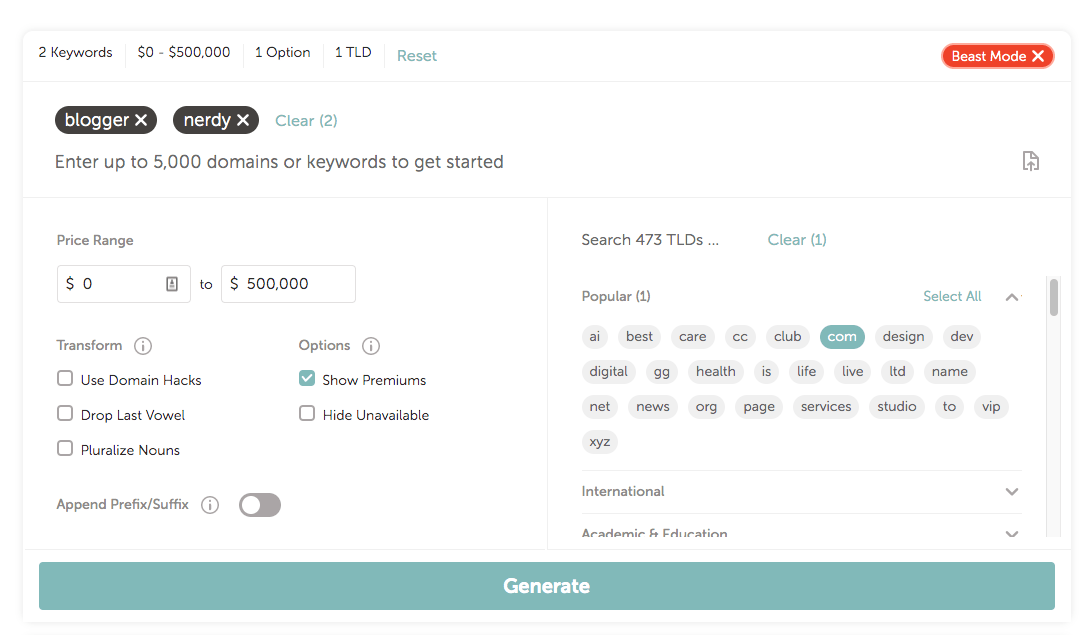 Enter your Keywords, Select the preferred TLDs and Click Generate. You will get tons of results.
Choose the one you like most and that should relate the Interest.
Before buying the domain make sure the few things.
Prefer .com domains
Niche-Specific or business-related
Don't use Numbers and Special Characters or repeating Characters
Prefer short length
Use Namecheap Beast Mode to Generate Domain Names
Click here for 5 Things You Must Know Before Selection of Domain.
Select a Hosting
Hosting is a Remote Computer that stores and deliver your website files. After selecting the domain, we need to connect the domain and hosting to make your website available Online.
Hosting plays a crucial role in your website performance.
Yes. Why we need a Good Hosting?
Increase website load time
Less likely to have a website downtime
Better security (https)
Frequent website backups if anything were to go wrong
24/7 support
Search engine rankings & SEO
I have been using below Hosting Providers for myself. You can try it as well.
Domain.com – Free Domain for 1 year and a Web Hosting plan is to start As low as $3.75/mo* ( Tips: Use Coupon Code "DOMAIN10" to avail 10% OFF )
If you would like to manage Cloud Server, One of the best choices is CloudWays. You can create an application in a Single Click. Price Starts as low as $10/mo ( Tips: You can refer your Friend and Earn $20/referal )
Click here to learn how to connect domain with hosting.
Choose Website Platform for the Blog
The website platform is when you manage your website content. There are so many Content Management System is available.
We should choose the one that flexible and easy to manage.
WordPress is stared as a Blogging tool. it has evolved throughout the years into a powerful website builder and a robust content management system (CMS)
I have developed all my website and my client websites using WordPress.
It's very user friendly and has wide verified of plugins to add features and functionality to our website with having coding knowledge.
Why WordPress best option?
WordPress powers 32.3% of all websites on the internet
WP sites Rank higher
Free Theme and Plugins
SEO Benefits
Robust Security Features
Cost-Effective and Flexible
Multi-User Capability
Offers Support Community
Manage your Website from anywhere you have internet
User-Friendly and Responsive backend etc…
Select a Theme & Plugins
Installing WordPress Theme is easy and simple with a few clicks. You can check here to find how to setup & Install a WordPress Website
WordPress repository provides lots of free theme and plugins to use your website.
You can also get a Pre-styled premium theme or plugin from a site like Theme Forest. Click here to watch Premium theme Installation with demo content
Once you setup Your Blog, We need to install a few plugins to perform better. so that we can drive some traffic to our site and start making money
Google Analytics – To track your website Vistors
Yoast SEO Plugin – Improve Search Engine Optimization
W3 Total Cache – Increase page speed and caching
Sassy Social Share – To share your Posts to social media.
Compress JPEG & PNG images – Image compress Plugin
Really Simple SSL – To activate the SSL certificate
Content Writing
Wow. You are Excellent, you have done it. Your Blog is ready now and Just start to write your interest now itself. Making money is not faraway
Keep writing, you should write a post regularly to bring more and more visitors and engage with them.
Read more article to get some ideas and gather some knowledge on your subject.
If you would feel your writing is not good or proper English. Grammarly and ProWritingAid tools will help you to check your content without error and in proper English.
Let's Start Now.
Finally, You learned how to start a blog for make money.
Keep write a blog to bring more visitors to your website. Once we start getting a more visitors. We are ready play with our posts and make it money making posts.