Here, I am going to give you 5 Must-Have free WordPress plugins that available in WordPress Repo which makes your website have advanced features and improve your Website Performance way better.
To create a Basic Small Website for Business and blog can be easy by using the Free WordPress theme from the WordPress Theme Repo or you can choose one from Best WordPress Premium Themes In 2020.
If you would like to learn WordPress Setup, I have covered in my previous article WordPress Setup And Installation For Beginners
But they might use some basic default features that WordPress Provided.
We have tons of Free WordPress Plugins available to make our website have additional features, That helps in a different way to improve our business.
Here are the Must-Have Free WordPress Plugins
Page Builder Plugin
By Default WordPress have Gutenberg editors. But you may feel that is a little bit hard to insert the elements and make your website multiple sections based or column-based view.
Yes. I felt hard to use Gutenberg. so that I have found a plugin that helps my work easier and faster.
You may hear this plugin. Yes, I strongly recommend you to try Elementor Page Builder plugin page build a nice page layout.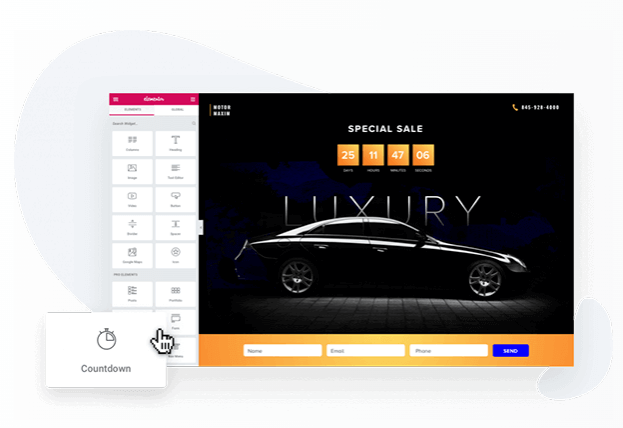 Elementor provides 30 FREE WIDGETS AND COUNTING. Below is few of them listed.
Heading. Add eye-catching headlines.
Image. Control the size, opacity and other settings of images.
Text Editor. A WYSIWYG text editor, just like the WordPress editor.
Video. Add YouTube \ Vimeo to your page.
Button. Controlling every aspect of the button design.
Image Box. A box that includes image, headline and text.
Testimonials. Customer testimonials that show social proof.
Icon. Place one or more of 600+ icons available.
Icon Box. Works the same as the image box, only with icons.
They have provided a pro version as well. It includes 50+Pro Widgets, 300+ Pro Templates, 1-year free support, 1 year free updates as well.
SEO Plugin
Search Engine Optimization is the most important factor of the Search Engine Ranking of your website.
If your website is not listed in Search Engines. Then nobody knows that your business online. How can they find you? No Way!
Oh, Don't get Panic, whether we need to hire an SEO expert to optimize the website to rank higher in most popular Search Engines like Google, Bing or Yahoo.
That is why we have a plugin called Yoast SEO. This is the most popular SEO Plugin used by millions of WordPress website Lovers.

Even me too using Yoast SEO in my every Project I did for my clients and my own websites too.
Yoast SEO Plugin has some unique features that help you to optimize our website without having too much knowledge of SEO.
Which provides Readability Analysis like checking the content's Passive voice, Paragraph Length, Sentence Length, Subheading Distributions and Transition words etc.
Also, It checks keyphrase, Internal Links, External Links, SEO Title Width, Meta Description Length and image Alt Tag etc.
Cache Plugin
More than 60% of users are accessing the website via Mobile globally. We are using different mobile networks.
Sometimes data transfer is very faster sometimes not. It depends upon the no of users access the network in the same place on particular network range.
That is the reason we feel our network speed is slower than normal sometime.
You may have question. How it affected my website visitors?
Yes. It Will.
Most of the online Website's Bounce rate more than 90%.
Bounce Rate is the time that How long the users stays when they visit the website.
If the Bounce Rate is Higher, Which means your website visitors leave your website within a couple of seconds.
Website loading speed is the main reason that user stay longtime or leave immediately.
Yes. If your website takes longer then 5 seconds. Then the user will close the browser and move on to next.
Speed is among the most significant success factors web sites face. In fact, your site's speed directly affects your income (revenue) — it's a fact. Some high traffic sites conducted research and uncovered the following:
Google.com: +500 ms (speed decrease) -> -20% traffic loss
Yahoo.com: +400 ms (speed decrease) -> -5-9% full-page traffic loss(visitor left before the page finished loading)
Amazon.com: +100 ms (speed decrease) -> -1% sales loss
You can test your website speed using GTMatrix or PageSpeed Insight.
Below is my one of the Landing Page Website Speed Test Result.
To do this,We have free WordPress Plugin Called W3 Total Cache.
W3 Total Cache (W3TC) improves the SEO and user experience of your site by increasing website performance and reducing load times by leveraging features like content delivery network (CDN) integration and the latest best practices.

W3 Total Cache is the only web host agnostic Web Performance Optimization (WPO) framework for WordPress trusted by millions of publishers, web developers, and web hosts worldwide for more than a decade. It is the total performance solution for optimizing your WordPress Website.
Site kit is the one-stop solution to deploy, manage, and get insights from critical Google tools to make the site successful on the web.
We can get Insights from multiple google product at dashboard.
Search Console
Track how many people saw your site in search results, and what query they used to search for your site.
Understand how Google Search discovers and displays your pages in Google Search.
A number of clicks, Page Impression, Average CTR, Average Position etc.
Analytics
Explore how users navigate your site and track goals you've set up for your users to complete.
AdSense
Keep track of how much your site is earning you.
PageSpeed Insights
See how your pages perform compared to other real-world sites. Improve performance with actionable tips from PageSpeed Insights.
Tag Manager
Use Site Kit to easily set up Tag Manager- no code editing required. Then, manage your tags in Tag Manager.
Social Share
Social share is helps to share our Website Content on social networks in connections, groups and communities
When uses visit your website and ready the article that inspire them more, they would like invite invite their friend and families to read the article.
To make it simple, We have social share plugin that insert the different social media icons to each pages and bottom or top of each article we published.
Users can by clicking any of the social icon to share article to their social network connections.
This way we can get more referral traffic to our website.
More than 4.5 billion people now use the internet, while social media users have passed the 3.8 billion mark.
Personally, I am using Sassys Social share Free Plugin.

Conclusion
We have so many free WordPress plugins and paid WordPress plugins in the marketplace. but above I have selected 5 Must-have Free WordPress plugins that definitely improve your website performance rocket high without spending money.